What Does a Horn Bet Pay in Craps?
Recently updated on August 7th, 2023
If you have played craps before, you may have come across a horn bet, but you may still be a bit fuzzy about what this bet is and how much it pays. We will admit that just like you, this is one of the bets that we have chosen to ignore when playing online craps games. So, what is the horn bet? Also, what does a horn bet pay in craps?
Most players prefer the horn bet is a sucker bet as it carries a higher house edge than most of the other bets on the craps table. With that, this particular bet is also known to be a fun bet that is interesting to play. Below, we give you a detailed explanation of this bet, how it works, and the expected payout.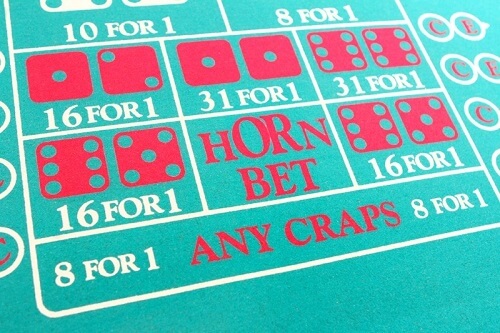 Horn Bet Explained
The horn bet is a single roll bet at the centre of the table. To make this bet at a land-based casino, you will pass your chips to the Stickman, who will place this bet for you. At an internet casino, you will make this bet yourself. This bet allows players to combine four different wages into one.
It covers 3 craps numbers which include 3, 3, 12 as well as number 11. The bet can be placed and accepted at any part of the game. If you were to place a $4 bet on the horn bet, that amount would be divided equally between all four numbers included in this bet. Basically, that would be a $1 bet on 2, 3 11 and 12.
In betting on this horn bet, you can always double up on any of the numbers. To do this, you will let the Stickman know that you would like to double up. This is where this bet gets interesting when you double up on a specific number. There are fun ways in which you explain this. We are going to assume that you are placing a bet with a $5 chip:
If you would like to double up on 12, you would use 'horn, high 12' or 'high horn.' Here you'll be placing a $2 bet on number 12 and $1 on all the other numbers.
'Horn, high aces' is a double up on the number 2 with $2, and $1 are the other numbers.
To make a $2 bet on 11, you would use 'horn, high Yo.' Yo is the term used to refer to the number 11, as it sounds a lot like seven. A lot of craps players tend to be superstitious about mentioning the number 7 at the table.
Odds On The Horn Bet
Now that you understand what the horn bet is and how to place it at a craps table, we will look at how each bet pays. Also, we will give you an example of how it would work if you were to play real money crap online.
The payouts of the horn bet will depend on the individual numbers in this bet. The payouts and numbers appeared.
Numbers 2 and 12 payouts 3 to 1.
Numbers 3 and 11 will payout 15 to 1.
You have to remember that only one of four numbers gives you a payout. This means that if you want to bet on the number 2, you will have lost payout for 3, 11 and 12.
We're going to use the $4 horn bet as an example again. If you place a $4 bet on the horn bet, it will lose a $1 bet on each number. So, if numbers 2 or 12 hit, you will win $30. From this $30, you will get minus $3 for the bets you have lost. Therefore, the final payout for this bet will be $27. if numbers 3 or 11 hit, you will get paid out $15 however, your total payout will only be $12 as you still have to minus $3 that you have lost.
Horn Bets House Edge
The house edge on numbers 2 and 12 in the horn bet is 13.89%. For numbers 3 and 11, the house edge is 11.11%. Ultimately for every $100 you were to spend on the horn bet, you would lose about $13.89 and $11.11. The overall house edge is 12.5% which isn't as great as what you find in many other casino games.
The Whirl Bet
When talking about the horn bet, you will find that many craps players will also mention the whirl bet known as the world bet. This particular bet is a combination between the horn as well as any 7 bets. It is also one of the worst bets you can make in crabs as it isn't profitable.
How these bet works are that it focuses on five independent bets. These include 2,3,11 10, and 7. Suppose you were to place a $5 bet on the world bet. That would mean a place in a $1 bet on 2,3, 11, 10 or 7.
On numbers 2 and 12, you will only be paid out $26 instead of $30 as the dealer will go minus the $4 you have lost from the other bets. If 3 or 11 a rolled out, you will win $11 rather than $15. If seven is rolled out, your bet is considered a push, and it only pays out 4 to 1
Horn Bet Payouts: Conclusion
As you can tell, making either the horn bet or the whirl bet are unprofitable and rather risky. Both bets offer a high payout compared to other basic craps, such as the pass and come bet. However, you still lose a substantial amount as with the horn bet.
Using the bet terms when making bets at a craps table is imperative as it will help comply with the table etiquette. Of course, when playing online, you don't have to worry much about this, as you will be able to place this bet all on your own.
If you would still like to give this bet go. We suggest doing so at reputable casinos online that offer real-money or free craps games. Luckily for you, we have reviewed and played at several craps casinos that you can find right here on CanCasinos.ca. Make sure to register an account and claim some of the best bonuses and promotions that you can find at casinos.
Play Craps Online for Real Money